OUR STORY
LEARN THE ORIGIN OF SHRED CLUB
WHAT IS SHRED CLUB?
Matt Beans, the cofounder, responded, "Shred Club is the most fun thing to do in Tempe. It's the most fun thing I've ever done. For the last 10 years I've been on adventures of rock climbing, canyoneering, hiking, sky diving, scuba diving, racing go karts, even racing Lamborghinis. The fact is we have a beautiful lake with amazing buildings around it with a buzzing downtown district full of awesome people… Riding these boards is the most fun I ever have, every time. You can see it on face. You can feel it in my spirit."
2 best friends.
1 first name.
1 hobby.
A ton of fun.
That's Shred Club.
MATT BEANS + MATT ROGERS
Matt Beans, and Matt Rogers, who we will refer to as "Beans" and "Rogers" have been best friends since grade school. Rogers rode BMX, and Beans was outdoors rock climbing, hiking and camping.
"We grew up in Kingman, Arizona together. I moved down here 3 years before Beans did to work at Wells Fargo. He moved down, and I got him the same job I had. He didn't last long. I guess he just wanted to always do his own thing, and he was really into welding at the time." said Matt Rogers.
It was December 2019 when the seed was planted. Matt Rogers bought Beans and a few other friends some cheap electric longboards.
"Those boards were fun, but we wanted more", said Matt Beans.
They all bought new, better boards. Bigger wheels, more power, longer distance, and simply wouldn't break.
AN RV ADVENTURE
Early 2021, Beans' lease was up at his apartment, so him and Cat Angle, his future wife, sold everything and went on a 5 month long RV adventure.

"It was incredible. There were some times that sucked. We were travelling during the summer in the southern states, so it got hot. One day we even blew a tire and were stuck in the heat for 8 hours waiting for help. Regardless, the adventure was worth it.
Every other night Beans would call Rogers just to chat. Most conversations only lasted 15-20 minutes.
One day, he was on the phone for 3 hours with Rogers about a new business idea..
The entire drive back from Southern Idaho to Tempe, a 16 hour drive, all Matt talked about was how amazing Shred Club would be for Tempe. He was right. People love it!" - Cat Angle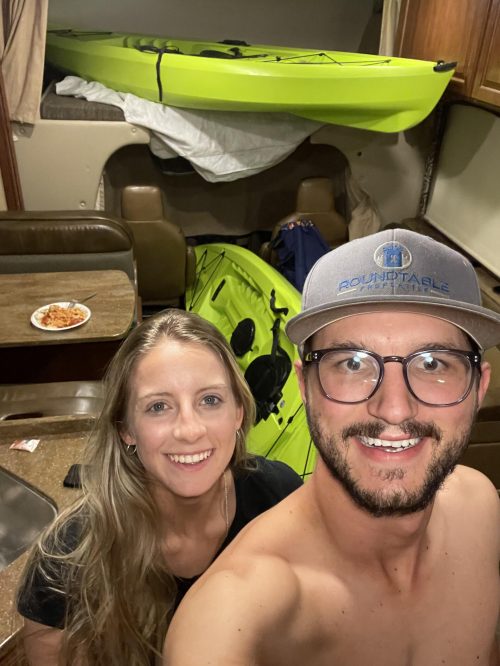 SHRED CLUB IS BORN
Within 45 days of Matt Beans and Matt Rogers back together, Shred Club was born. The location is perfect. An old, run down real estate office in the heart of Tempe, AZ on Mill Ave completely renovated into an exhilarating electric board rental shop.
"Riding these boards is exhilarating. It's something new for most people. They start out uncomfortable, but always come back with a giant smile on their face after a ride. When they come back for a 2nd and 3rd ride, they talk about all the places they went, what they saw, how awesome that 1 hour was. It's always the most fun thing they've ever done." - Matt Beans

So, What is Shred Club? It's exhilarating, it's something new, it's an adventure, a community, a hobby, and the most fun thing to do in Tempe.